Papierowe miasta…
John Green tak jak w Gwiazd naszych wina również i w Papierowych miastach wpisuje między wiersze głębsze i inne rozumienie śmierci, idei na życie, miłości czy przyjaźni.
Quentin Jacobsen to niczym niewyróżniający się chłopak uczęszczający do ostatniej klasy w Orlando. Ma kochających rodziców, dwójkę dziwnych przyjaciół i swoje proste spóźnialskie życie, w które wkracza dziewczyna.
Margo Roth Spiegelman to dziewczyna o niecodziennym guście muzycznym. Żyjąca z ludźmi wyższej kasty, skryta i inteligentna.
Pewnego dnia w nudne i poukładane życie Q przez okno wchodzi, osoba, która na ostanie dni przed zakończeniem szkoły zburzy ten porządek i zmusi go do szalonej wyprawy zmieniającej jego charakter.
"Papierowe miasta" to powieść o większym znaczeniu. Mówi nam, że musimy czasami zwolnić i zastanowić się na własnym życiem, losem, czasem, który przepływa nam między palcami. Pokazuje nam jak ważna jest prawdziwa przyjaźń, że są ludzie, którzy opuszczą nawet zakończenie szkoły, by przeżyć wspólną przygodę. Miłość mimo kochania, zmusza nas do niecodziennych rozwiązań.
Chyba każdy z nas czytał kiedyś książkę Johna Greena i wie, że jego styl pisania jest prosty, jako słowa na papierze, lecz głęboki w całym swoim znaczeniu. Przekazuje nam ukryte treści.
Fabuła również nie jest skomplikowana.
Mimo, że nie jestem wielką fanką Greena to lubię jego powieści za tajemnicę, która drzemie pośród kart jego książek. Polecam wam przeczytanie "Papierowych miast" i małą refleksję.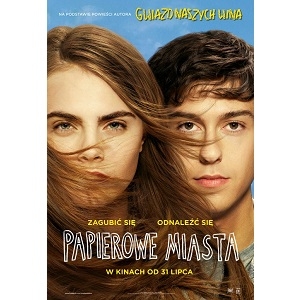 Hejcia, jak tam ferie/po feriach/ w czasie ferii? Ja mimo swoich zamierzeń nie przeczytałam Władców 🙁 Jestem mocno sobą zawiedziona.
No to co tam u Was słychać mordeczki? Dawno się nie widzieliśmy i czytaliśmy 🙂
A jak podobał Wam się film? Ja jak na razie mam go w planach 🙂